Unpaid Wages of Resident Motel Managers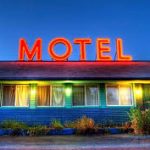 Innkeepers, motel managers, hotel managers, recreational vehicle (RV) campground managers, "work campers," and property managers who live on the property they also manage frequently are paid less than the minimum wage and denied overtime pay. Motel, hotel, and RV campground owners often employ individuals or couples to manage small properties and provide a "free" room or "lot rent." Often, however, the free lodging benefits the owner, allowing the owner to have an employee on call onsite, a is not primarily provided for the convenience of the employee. Property managers, "work campers," and innkeepers living onsite frequently work long hours seven days per week. They also may be required to handle guest issues throughout the night. A motel/hotel/RV campground owner, however, cannot escape the overtime and minimum wage laws simply by providing lodging.
For a motel, hotel or RV campground owners to be entitled to pay an employee less wages in exchange for providing a room or lodging (i.e., a wage credit or lodging deduction), the employer must, among other things, charge no more than the employer's "reasonable cost" of the lodging, the lodging must be "customarily furnished" by the employer, the lodging must be provided primarily for the benefit or convenience of the employee, and the lodging must be accepted voluntarily by the employee.
Motel, hotel, and campground employers often fail to meet all the requirements for taking a wage credit for lodging. Owners of these properties often charge their onsite managers the retail value of the room or lot rather than their actual, reasonable cost. The reasonable cost can be no more than the actual cost to the owner of the lodging provided. The law does not allow employers to profit from the lodging deduction. Motel/hotel/RV campground owners also often fail to keep accurate records of the cost of providing the lodging to the employee. Moreover, if the employee is asked to live on the property so that the motel or campground can have someone on call 24/7, then the lodging may not be for the primary benefit of the employee, and the employer may not be entitled to take a wage credit.  Employees have rights even if the property owner calls them "contractors," "work campers," or something else. Regardless of the label an employer tries to apply to a worker, the law, not the business owner, determines who is an employee and who is an independent contractor.
Don't get overworked and underpaid.  If you are working at a motel, hotel, apartment, RV campground or inn and have questions about whether your overtime wage or minimum wage rights are being violated, call Bober & Bober, P.A. today at (800) 995-9243 for a free consultation.  You also can email us at info@boberlaw.com.